Bandiva<sup>™</sup>
Cover, Conceal and Protect Without Losing Your Sense of Style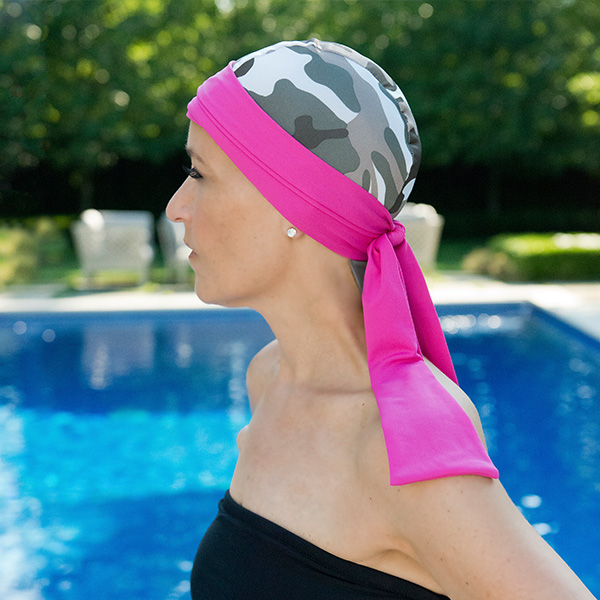 Product Description
Whether you need coverage or complete protection, the Bandiva™ has been designed with style, confidence and comfort in mind. You deserve to feel and look amazing; whether you are having fun with family at the beach, cooling off in the swimming pool or looking for a more comfortable and stylish sleeping cap.
Bathing caps in the current marketplace are outdated, impractical and uncomfortable. In addition, they are often not made of high quality swim material that is resistant to the elements or will stay in place in the water or wind.
Bandiva, our versatile head-wrap, gives you the freedom to enjoy life without feeling vulnerable or without choices in swimwear. This is so much more than just another cover up. It is a highly functional and fashionable way to accentuate your personal style. You will love the chic designs and the feel of our luxurious fabric.
Why Choose Bandiva
Conceal the vulnerable areas caused by chemotherapy, alopecia and other medical issues.
Protect your hair from all that life has to throw at it – Bandiva is perfect for protecting braids, weaves, colored and curly hair during the day, or even while you sleep.
Tie and wrap to suit your own personal style.
Bandiva is made from resilient fabrics that have been extensively tested. It dries quickly and is chlorine and salt resistant.
Our range of stylish head wraps has been carefully and sensitively designed to give you the choice that is often lacking when looking for cover ups. We give you back the freedom to choose stylish and comfortable cover ups, and the power to feel confident in your own skin once more.
Live Your Life without Boundaries
— Place Your Order Today!
Bandiva can be worn in a multitude of different ways according to your own personal style. Tie and wrap your Bandiva to suit your mood and to perfectly conceal or protect your hair and scalp. You can create volume on top of your head or simply tie it discreetly at the back of your neck. If you choose to go into the pool or to the beach, it will be chlorine and salt resistant and will stay comfortably and securely in place. The Bandiva dries quickly, unlike cotton or performance fabrics.
You'll instantly feel more confident, free and happy to enjoy and engage in all aspects of life again without boundaries. Why not mix and match with Bandtastik, our versatile swimwear cover ups?
Order your Bandiva today, and we will donate 1% of our profits to our charity of the month. You deserve to look and feel your best; whether swimming, sleeping or relaxing.